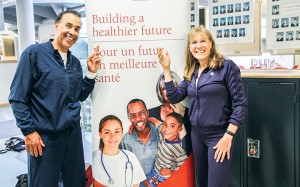 Audiences in Fort Smith, Hay River and Yellowknife tuned into Canadian fitness celebrities Hal Johnson and Joanne McLeod last week during the Body Break duo's NWT visit to talk about diabetes. The fitness stars toured the three communities sharing tips and tricks to help prevent, deal with and even reverse diabetes – a chronic disease characterized by the body's inability to produce enough insulin or properly use insulin to break down sugars in the blood. Johnson and McLeod's first stop was in Fort Smith for the community's Diabetes Expo. Around 80 people came out to Paul William Kaeser high school Monday night to hear from the guest speakers. The focus of the presentation was "Change your Life, Change your Habits" and touched on everything from recognizing pre-diabetes symptoms to dealing with diabetes by creating habits of eating well and exercising regularly. During their presentation, Johnson and McLeod spoke to the parents in the room, stressing the importance of setting an example for their children. "As parents, it's so important that we are all role models. We'd rather sit back and listen to music or watch TV, but if we don't set a good example for our kids, they will learn all kinds of bad habits," McLeod told the crowd in Fort Smith.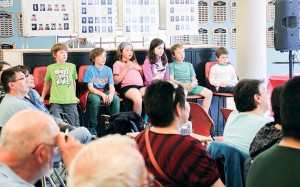 Despite the heavy topic, the fitness stars kept the audience's mood light with sporadic jokes and humorous references to their celebrity lifestyle. Johnson and McLeod put on similar presentations in Hay River and Yellowknife last week, all organized by the Canadian Diabetes Association to educate residents in the NWT about the disease.
Diabetes a Canadian 'epidemic'
According to the Canadian Diabetes Association, more than 9 million Canadians are living with diabetes or pre-diabetes. In a news release sent out by the association, it stated that prevalence rates among Aboriginal people are "at least three times higher" than the general population. Aboriginal people also face a higher risk for pre-diabetes, obesity and the development of type 2 diabetes at a younger age. In an interview with 
The Journal,
 McLeod said diet and exercise go a long way in preventing the onset of diabetes, but despite all the knowledge, the numbers are still reaching an alarming level. "There's been such an increase of type 2 diabetes, not only with adults, but with children. It's at a point where it's an epidemic and something has to be done," she said. "Public health departments are able to provide the education, but it's still up to everyone to use services provided and to use the gym or fitness centres."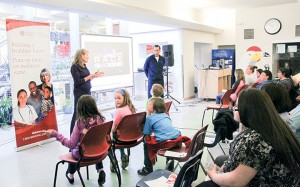 Northern communities not alone.
Johnson said every community in Canada wrestles with unique barriers to healthy eating and exercise, but none of them are insurmountable. "We are all confused sometimes about what we should do, what we should eat, what's healthy this week. These are the things that everyone faces across the country," he said. In order to break the glass ceiling, a person must be ready to make lifestyle changes and slowly create habits that become more powerful than cravings, Johnson said. It's not about the latest exercise machine or the most efficient fat-burning technique, it's about each person choosing the best method they enjoy and can commit to, be it running, walking, weights or sports, he said. For healthy eating – even in the NWT where it can be more difficult or expensive to access fresh foods – choosing the food that has the least processing possible, even if frozen or canned, will always be the best option, McLeod said. For more information about diabetes from the Canadian Diabetes Association, visit 
http://www.diabetes.ca/